Jaki welon ślubny wybrać i jaka jest jego symbolika? Sprawdź nasze typy!
Wybór dodatków do sukni ślubnej to prawdziwe wyzwanie. Po pierwsze należy zdecydować, czy to suknia ślubna ma grać pierwszy skrzypce, czy może jej główną ozdobą ma być niezwykły i spektakularny welon.
Oprócz tych dwóch ustaleń panna młoda musi wybrać odpowiednie buty ślubne, biżuterię ślubną i makijaż. Warto pamiętać o tym, aby nie przesadzić z błyskiem i ilością dodatków, przez które stylizacja stanie się ciężka i zbyt monumentalna.
Dobranie odpowiedniego welonu ślubnego nie jest łatwe, ponieważ musi on pasować do sukni i fryzury. Również makijaż ślubny powinien współgrać z całością stylizacji. Na co zatem należy zwrócić uwagę, kupując właśnie ten element stroju ślubnego? Poznajcie nasze wskazówki!
Welon ślubny – znaczenie, symbolika i przesądy

Czy welon to obowiązkowy element, bez którego panna młoda nie może wystąpić w dniu ślubu? Kiedyś właśnie tak było i nikt nie wyobrażał sobie, aby ten skrawek materiału nie zakrywał twarzy przyszłej mężatki.
Jaką rolę w przeszłości pełnił welon? W dawnych latach, około IV wieku przed naszą erą welon miał strzec pannę młodą przed demonami i złymi duchami. Bano się, aby niewiasta nie poddała się ich kuszeniu. Wraz z rozwojem edukacji odrzucono tego typu wierzenia. Nie zrezygnowano jednak z welonu ślubnego, który miał okrywać twarzy panny młodej przed spojrzeniami gości, w tym także pana młodego i świadczyć o jej niewinności i czystości. Obecnie welon traktowany jest jako jeden z dodatków i jedynie luźno związany jest z tradycją. Najczęściej w ogóle nie osłania twarzy panny młodej, a jedynie pięknie spływa po jej włosach i okrywa ramiona.
Jeśli chodzi o przesądy związane z welonem ślubnym, to według starodawnych twierdzeń, panna młoda nie powinna potknąć się o swój welon, ponieważ przynosi to nieszczęście. W kościele poprawiać welon powinna świadkowa lub druhny, ponieważ przyszła żona nie powinna spoglądać do tyłu.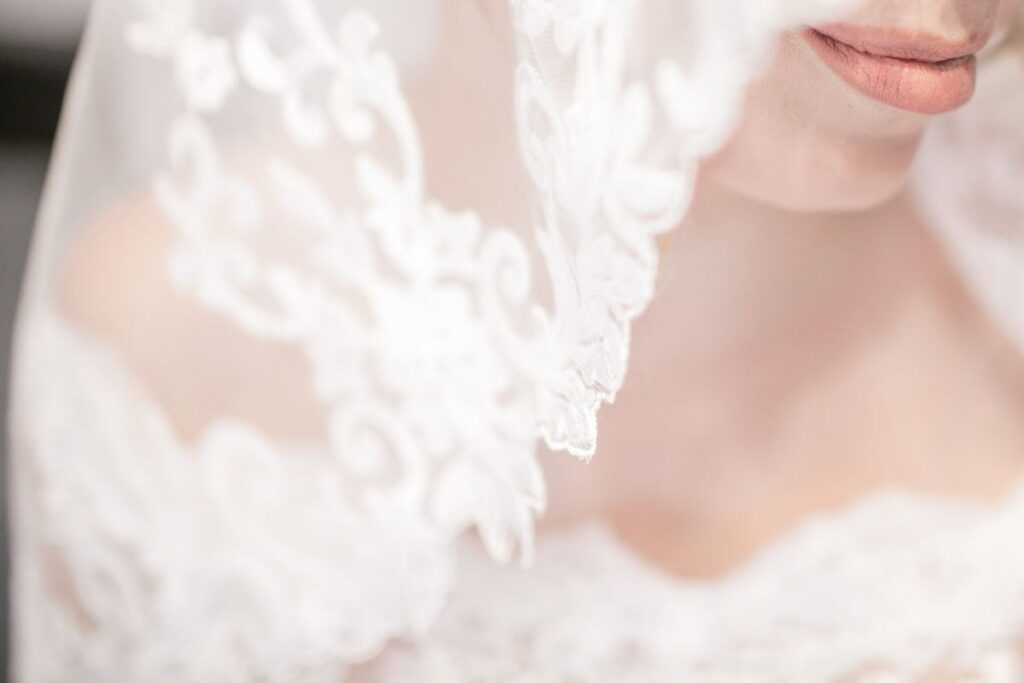 Zobacz także: Paznokcie ślubne – jaki wzór wybrać, aby pasował do stylizacji?
Welon ślubny – najpopularniejsze rodzaje

Po pierwsze, musimy zadać sobie pytanie, czy w ogóle chcemy mieć welon. Po drugie, przy doborze welonu warto wziąć również pod uwagę różne fryzury ślubne i zobaczyć, do której wybrany przez nas model najbardziej pasuje. Wśród najpopularniejszych welonów można rozróżnić:
welon krótki – zazwyczaj jego długość maksymalna to 50 centymetrów. Krótkie welony bardzo często mają woal, którym można przysłonić twarz. Idealnie pasują do niemalże każdego stylu i kroju sukni ślubnej. Znakomicie prezentują się zarówno na długich jak i krótkich włosach;
welon półdługi – proponowany jest pannom młodym, które wybrały suknie ślubne w kształcie litery "A" lub kreację o wyjątkowo prostym kroju. Zazwyczaj sięga mniej więcej do talii;
welon długi – nazwa tego typu welonu może być myląca. Pomimo tego, że nazywany jest długim, najczęściej sięga do bioder. Idealnie nadaje się do sukien ślubnych, które są bogato zdobione. Nie poleca się go do sukien ślubnych o nietypowej długości, czyli np. takich, które sięgają trochę za kolano lub kończą się nad kostką. Co istotne, welon długi znakomicie wysmukla sylwetkę!
welon kościelny – nie tylko sięga do podłogi, ale nawet delikatnie się po niej ciągnie. Bardzo ważne jest, aby welon kościelny był dłuższy niż tren sukni ślubnej;
welon katedralny – to jeden z najbardziej spektakularnych welonów, który w minionych latach zarezerwowany był na śluby królewskie. Zazwyczaj jego długość sięga od kilku do kilkunastu metrów. Ze względu na bogactwo zdobienia ważne jest, aby welon katedralny dobrany był do prostej i nieco bardziej skromnej sukni ślubnej;
welon hiszpański – w ostatnich latach prawdziwym hitem stał się welon hiszpański, który można spotkać w różnych długościach. Najważniejszą ozdobą welony hiszpańskiego jest koronka, która okala brzegi materiału.
Zobacz także: Poszukujesz sukni ślubnej i welonu? Zajrzyj do naszej bazy kontaktów!
Cena welonu ślubnego

Nie da się jednoznacznie określić ceny welonu ślubnego. Bardzo dużo zależy od tego, jaki rodzaj welonu został wybrany i z jakiego materiału zostanie on uszyty. W salonach sukien ślubnych krótki welon z tiulu można mieć już za 50 złotych. Prosty welon kościelny to koszt około 150-200 złotych.
Sytuacja komplikuje się nieco bardziej, jeśli chcemy, aby na welonie znalazły się np. kryształki swarovskiego lub ozdobna koronka. W takiej sytuacji ceny welonów mogą dochodzić nawet do kilkuset złotych.
Oczywiście istnieje wiele alternatyw. Nie zawsze trzeba kupować zupełnie nowy welon ślubny. W sieci można znaleźć wiele ogłoszeń, w których byłe panny młode za znacznie niższą cenę chcą sprzedać nie tylko suknię ślubną, ale również wszelkie dodatki.
Co wybrać zamiast welonu, jeśli koniecznie czymś chcemy przyozdobić włosy. Hitem sezonu są oczywiście wianki ślubne, jednak welon można również zastąpić kapeluszem, tiarą lub bogato zdobioną spinką.
Ankieta